From The Rector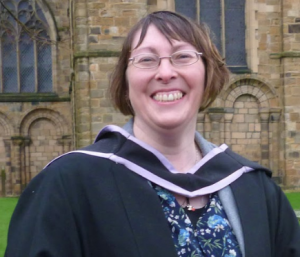 Vittoria's most recent letter is here, followed by some of her  previous letters.
You can also follow Vittoria
on Facebook – Vittoria Hancock.
Rector's Letter February 2023
From the Rector
Rev'd Canon Vittoria Hancock
Dear Friends,
I am sat in St Thomas' writing this, away from distractions of phone, doorbell and internet.  The soup is bubbling away in the slow cookers, and the tables are set to welcome anyone who might appear. I must confess, by the time Christmas came, I was fed up of the sight and smell of soup, having been making it twice a week in Advent – but I seem to have recovered from that. Soup tends to be universally comforting, whether it is leek and potato, chicken, or – the best type of soup in opinion – fridge soup. What, you may ask, if fridge soup. Well, fridge soup – in the Hancock household, anyway – is made of whatever is in the fridge that needs using up, from veg that is perhaps looking a little elderly, to the remains of last nights casserole. This year I had Christmas lunch delivered to my door by a friend. And very much appreciated it was as well. But there was enough left over turkey, veg, and pigs in blankets to go into a soup the following day. It was wonderful. The problem with fridge soup is that you can never quite repeat the recipe, delicious though it might be. 
Anyway, it is back to the soup making. Why is soup so comforting, and so satisfying to make? I think it provides warmth to body and soul. It is satisfying knowing that things are not going to waste – good for using up odds and ends. It is wonderful to come into the kitchen to the aroma of soup. But I think what I appreciate most about soup is that it can be stretched to fit however many people you want. It fulfils a need inside me to do something practical for others. One of my great pleasures in life is feeding people. Most of the time I can't be bothered to cook for myself. But for other people – it's wonderful. I like expressing my love in practical ways. I like the premise of hospitality that says 'if I've got it, you can have it – and if it doesn't look like enough, we'll make it stretch.' 
Part of this is how I was brought up – it was and is very much the policy of my parents that if you sit still long enough you'll be fed. That food can be stretched (the only problematic meal is chops, but even that can be overcome). It doesn't only extend to food – if there is something you need, or something practical that needs doing and they can do it, it will be done. It is a practical outworking of their calling as Christians to serve others. It is their way of showing hospitality. My parents are not the most social of creatures. You won't find them at pubs and clubs. But their home is an open home. Anyone is welcome. From hospitality comes welcome, and through welcome they are loved.
This is how our churches should be, as well as our homes. They should be a place of hospitality and welcome. Places that gives warmth to body and soul. I think that sometimes where we struggle to welcome is in our services. I am not speaking of how we welcome people into our building, or how accepting the congregations are. But how welcoming and hospitable is the format of our worship to those from outside? Our music? Our teaching? What does our worship tell people about our God? What can we do to improve these areas? 
We are good at offering hospitality and welcome in very practical ways – snow-digging, soup making, supportive phone-calls, offering lifts, tea-making. We are good at helping others when we see – or are told – what the need is, if we are capable of fulfilling that need. What does our practical service tell people about our God? How do those two pictures slot together?  
As we head into the season of Lent, I encourage you to stand back, to examine your life and your worship and to ask – 'what does this say about God to any looking on?' Is this the message I want to communicate? Through hospitality and welcome we love and are loved.
With every blessing,
Vittoria 
Rector's Letter December 2022                                        
From the Rector,  Rev'd Canon Vittoria Hancock
Dear Friends,
Every year, as the deadline for the December Tattler approaches, it is time for the annual Hancock pre-Christmas get together. It started out with just my mother and me, then my sister joined in, then my aunt and my cousin. I usually kidnap my mother and whisk her off to a hotel somewhere, abandoning my father to a diet of sausage sandwiches, chips, bananas and a packet of crisps. Don't feel sorry for him – he really wouldn't appreciate joining us for festive fun. You see, we normally try to find somewhere with a Christmas market, a good place for afternoon tea, and good places for a wander among shops with some history thrown in. It would be my father's idea of hell. He does not do browsing in shops, spending long periods of time walking around, or sightseeing. Nor does he really do Christmas – as in all the paraphernalia surrounding the festival. My mother, sister and I all do. We like the twinkly lights, carol singing, the atmosphere. This year is different. Due to my mother having back problems, my aunt's dementia getting worse, and me not being entirely fit, we have placed our trip to Carlisle on hold until next year. I have descended on my parents, and my mother and I will indulge ourselves in mixing the Christmas puddings, accompanied by the sound of carols on the CD player. It will be a different family get together this year.
Advent and Christmas is an odd time of year. I find it rather like the curate's egg – good in parts. Too full of Christmas events in Advent, meaning that Christmas Day almost seems lost in a morass of holly and tinsel. Not withstanding the Hancock gathering – which functions as our Christmas – I much prefer a slow and steady build-up to the day, so that Christmas is the crescendo. The Christmas events seem to carry with them expectations, while often the day itself seems rather like a deflating balloon in comparison. I think that is partly why my father dislikes 
Christmas so much. It isn't the day so much as all the hype surrounding it. There is a societal expectation that we will all be happy families, gathered around the table for lunch together, with smiling children and presents under the tree. The reality is that for some, Christmas day is a struggle. Either because there is the obligation to see family, or because there is no family to be seen. It can be the worst of times, full of forced bonhomie – when really we might prefer to be curled up in a corner with a book. For those who are estranged from family, or those who have no family or friends, it can be a lonely time. If there are tensions in a family, time with each other can be when those tensions explode.
How did we get from the birth of a child to this? To a feast with such expectations that it can literally make or break a family? Centuries of tradition and a moving away from the fast of Advent and the faith of Christmas means a misplaced emphasis on one day among many. Advent is a time of preparing hearts and minds for the coming of Christ – not just the coming of Christ at Christmas as a baby, but the second coming of Christ. It is a time to examine our hearts and minds, to look at where our lives are heading, what our focus is – and why. To evaluate what has been, to look at where we are, and to imagine what might be. It is a time of sombre joy – sombre because we acknowledge how far we have yet to travel, joy for we know what is to come, the promised Messiah. 
Christmas should be the culmination of this time of preparation. A time when we acknowledge that Christ has come to this earth, lived, breathed, walked, talked, laughed and cried. When we recognise that in true humility, God came as a small baby, defenceless and needy, that he might experience all that we do. When we celebrate with the shepherds and angels as they sing 'Peace on earth and goodwill to all'. When we praise the God who was and is, and is to come.
Alleluia! Glory in the highest heaven, and peace to all on earth! Alleluia!
Every blessing,
Vittoria
Rector's Letter October 2022                                        
From the Rector, Rev'd Canon Vittoria Hancock
Dear Friends,
Autumn is always a time tinged with sadness. A time of mellow
fruitfulness. It has within it new beginnings, but also has endings. It is with
sadness that I heard of the death of Her Majesty The Queen at Balmoral. A long
life which was faithfully lived. We pray for the repose of her soul, and for
His Majesty, King Charles, the Queen Consort, and the members of the Royal
family as they mourn the loss of their loved one. It feels fitting somehow that
she died up here in Deeside, in one of her favourite places, where she was seen
not only as monarch but also as a member of this community.  Many of
us will have our own personal memories of seeing or meeting the Queen, and such
memories are important, reflecting the interweaving of personal and public. 
How does one react though? I find myself saddened, but not upset. I am
saddened by the loss of a faithful servant to this country, by the death of a
mother, grandmother, great-grandmother. I am saddened by the thought of the
wisdom, strength, and joy which has been lost. I am not sure however, that it
would have been kind to pray that she keep going longer. Much as we valued and
appreciated her, there was no retirement for her.  But I also
rejoice. I rejoice that for Her Majesty this was not a long drawn-out lingering
death. That she is with her God and King in heaven. That she will be welcomed
in with open arms 'Well done, thy good and faithful servant'.
With that, we welcome King Charles III as our new King, after a long
apprenticeship. He will not be a male version of the late Queen, but will forge
his own way into the role. He will undoubtedly do things which will be
criticised, and others which will be praised. He will have the loving support
of the Queen Consort, Camilla, and of his family.  But everything he does will be carried out and judged in the public eye,
even more so than previously. 
Both Her Majesty Queen Elizabeth and King Charles have spoken publicly
about the faith which sustains them. This faith is expressed in their service
to their country. It gives us an example to follow – both in service, but also
in being willing and able to speak of the relevancy of a God and a faith in an
increasingly secular society. Speaking of God in current times is not an easy
task but it is one that both King Charles III, as Defender of the Faith, and we
as Christians are called to do. We are called to proclaim a God of love. A God
who guides, reassures, strengthens and inspires. A God of peace and mercy.
This is the God in which Her Majesty, Queen Elizabeth believed. May she
rest in peace and rise in glory. This is God in which King Charles III has
professed his faith. May God help and save the King.
Every blessing, 
Vittoria
Rector's Letter, August, 2022
Dear Friends,
It has been an odd few weeks in the Rectory. First a horrible chest infection, then four days away – hooray! – then back for a week, then the dreaded Covid-19 hit. I am not back to normal just yet. I can't remember when I last did so much sitting around doing not a lot. 
The negatives – well, the lack of energy, the lingering cough, etc. – I won't bore you with that. I have missed visiting you. I have grumbled about the fact that now I have time, but I don't have energy to do all those things I want to do – finish revarnishing and upholstering the dining chairs, for example. The emails have continued to come in, and the phone continued to ring.
The positives of this are plentiful. I have wonderful congregations who have delivered various goodies (chocolate, strawberry tarts,
dessert pots…), offered to do my shopping, and guarded my time and space. Thank you. I have spent time in my summer house, just being, watching the path of the sun across the lawn, and pondering weeding the garden. I have caught up on various radio programmes – The Museum of Curiosities and the Curious Cases of Rutherford and Fry to name a couple. I have rediscovered the joy of a nap. I would say an afternoon nap, but at the moment it's an 'after any exertion nap'. My walks have of necessity been slower and gentler, which means I have seen more wildlife. From a stoat darting across the path in front of me, to a small vole scurrying ahead, to a buzzard taking off and flying over my head, so close I could feel the down-draft from it's wings. While my holiday was of necessity a little more leisurely than planned, that meant I stopped more often and for longer, sat in the back of my car, eating oatcakes and cheese and just watching the world go by. From dolphins in the Moray Firth, to sparrows hopping ever closer, hoping for a crumb of oatcake. I have quite literally sat and smelt the roses. 
I would love to say I had used my time in deep prayer and reflection, but the fact is, I haven't. Not in the way a lot of people would describe prayer. Prayer is often seen as active – when we say 'let us pray' in church, we all bow our heads, close our eyes. We use words – or struggle to find the right words. We pray for things or people– world peace, climate change, healing, government. We strive to connect, to feel. We plead or implore, interceding on behalf of others. We search for guidance and direction. Sometimes prayer feels like a battle-ground. And to be honest, I haven't had the energy for that type of prayer.
But prayer can equally be just spending time with God.
Although this is not how I would have chosen to use this time and space, there has been a gentle awareness that God is with me, walking alongside, sitting in the summer house, in the scent of the roses and the sound of the sea. I have noted his presence with me. And this acknowledgement that he shares this time and space with us is prayer. A knowledge that he is with us, and we are with him. In this 'being prayer', being present, there is a source of peace, of comfort, of tranquillity, of strength. Sometimes we need to be quiet – both
physically and mentally – be still, and just be. There is no need to strive to meet with God, for he is there already. Stop. Rest. Breathe. And be in the presence of God who loves us.
With every blessing,
Vittoria
Rector's Letter, June and July, 2022
Dear Friends,
The Queen's Platinum Jubilee is fast approaching and plans for many a party are afoot. There are plans to plant a tree for the Jubilee in both St Kentigern's and St Thomas'. I don't know what your views are on the monarchy. Some of you may see it as an outdated and redundant institution; others may see it as a vital element of our constitution. The Bible itself is rather equivocal on the idea of a monarchy – in the book of Samuel, God is not particularly in favour of the idea, but in the end he appoints Saul and then David to the position of king. He does however have certain stipulations as to what kind of leader the king has to be. The king of Israel was to be subservient to God and his law. They were there to serve the people. This is the type of kingship that we later see modelled in Christ the King. 
Whatever your views on monarchy, the Queen has been the ruler of this country for 70 years. She has dealt with a world war, various other conflicts, recessions, decolonization, the diversification of British society. She has managed a number of difficulties within the royal family itself. Through ups and downs, she has been a point of stability. However you view her role, she has been steadfast, faithful, discreet. She has demonstrated that she sees her primary calling as to serve the people of her land. There are things we can all learn from her.)
In a changing world, she has adapted her way of being and her way of thinking. This is a radically different world to the world in which she came to the throne. She has moved with the changes and grown with them. She has recognised that views held previously may no longer be valid today- and has been prepared to adapt and apologise. When we are faced with change – as we all are – we have a choice to turn our backs on it, or to grow with it. To stay in our own small world, or to explore outwards.
From her first tour to Australia, to her programme of personal visits, to royal garden parties, she has demonstrated the power of personal touch and communication. Even in the recent pandemic, she has  continued to do so, adapting to the use of online meetings such as Zoom. She has reached out to people, spoken to people, listened to people. There is power in relationships. Only through building them can we seek to understand each other, can we live alongside each other.
The Queen has entertained rulers and leaders of different views and different morals to her own. At times she has been condemned for this. Too often when we are faced with those whose views or actions we disagree with, we ignore them, or rebuke them. But change, tolerance, relationship, does not begin by blocking those you disagree with, but by meeting them, listening to them, speaking to them.
Her Majesty is known for her faith. Not that she shouts about it from the rooftops, but that it underpins her life. She has not always got things right – she is not perfect. But her faith has provided her with structures for how she deals with people, how she speaks to people, how she serves people. 
What is the framework upon which your life is built?  What are the structures which underpin it? Is it based on love of others, service of community, care for creation? Do you object to change, or adapt to change? Do you isolate and ignore those with different views, or do you listen to them? Are you a relationship seeker, a community builder? For these are the structures which make the world a better place.
As churches we seek to love others, we attempt to serve our communities, we try to care for creation. We are not always successful, but we try. We do this because we are seeking to follow the commandment we were given 'Love your neighbour as yourself'. This would seem to be a good motto for all, for those of any faith and those of none.
With every blessing,
Vittoria
Rector's Letter, April and May, 2022
Dear Friends,
I wonder what season you like best? Sometimes I think it is autumn, sometimes summer. But it varies with my mood. Spring has arrived at the Rectory, and Easter is fast approaching. Although with the wind we have had recently, it feels more like winter than spring. A decidedly lazy wind – it goes straight through instead of around. The crocii in the garden seem to spend most of their time laying bowed over, faces to the ground. Which means, when the sun does shine, beaming down warmth, I value it more than ever. The crocin stand erect and turn their faces to the warmth, the snowdrops seem to glow from within, and the little yellow flowers (I can never remember their name) open up wide. Like a cat, I follow the sun around my house, basking in the warmth streaming through the windows. It's interesting what difference the weather makes. 
I delight in bright spring mornings, with blue skies and sunshine. What I don't like about spring is those days when it is damp and cold, and the weather seems to hang around rather like a wet tea-towel, limply draped over the landscape. When I came here 8 years ago, I began two things. The first was an Easter Vigil and bonfire at St Thomas',and the second was a Sunrise Service by the river  in Ballater. I think over the years, we have experienced all the weather spring can bring – often experiencing all seasons over the Easter weekend. 
It is good that we sometimes celebrate Easter with snow and ice, and sometimes with glorious warm sunshine. Easter is a time of celebration in the Christian church – a time when we remember that Christ rose from the dead. A time which helped to further the kingdom of God here on earth. A time of peace, of hope, of love. 
Yet living as we do in this world, we are aware that although God's kingdom is here, it is not yet here. While we have the model of peace, hope and love, people still suffer under the burden of oppression, injustice, violence, and war. While there is plenty to go around, for others there is little. We do not live in a just, equal world. The work that Jesus died for is still ongoing – the battle is won, but the war continues. 
What we know is this – God will triumph. There is hope. We are called to be Easter people. To live in the faith of Christ. To live in the love of Christ. To live with hope for the future. To bring about peace on earth. To work with God to bring about his kingdom. We do this by our words, our actions, to demonstrate love, not hate, peace, not war. To welcome the stranger. To soothe the broken-hearted. To proclaim justice and mercy. 
This means that we are called to speak out when we see injustice or inequality. We are called to reach out when we see people in need. We are called to think about how we vote, how we shop, how we live the nitty gritty of every day life. Called to look at what we read, what we listen to. How we spend our leisure time and our time at work. We are the hands and feet of God in this world. 
The climate in the world at present is stormy.  Turbulent and full of unrest. So we look towards the spring, the light, the Son. We have the joy of the resurrection with us. We have the courage of the risen Christ with us. We proclaim peace, joy, love, hope for the future. Let us, in word and deed, help to bring forth the kingdom of God.
With every blessing,
Vittoria
Rector's Letter, January 2022

Dear Friends,                                                                          
'I have come that you may have life – life in all its fullness.'
John 10:10
I went to the isle of Mull with friends for my post-Christmas break. The cottage we booked is perched on a hill, overlooking the bay and the surrounding countryside. It has a picture window which runs the length of the house. You can watch the shifts and changes of the weather as it heads towards you. It was a week of little things that lit up the world. Golden eagles. Herons aplenty.  Snow and hail. Rain. Sunshine. Fog rolling in from the sea. Rainbows. Oyster catchers, mallards, and eider ducks. Great northern divers. Peregrine falcon, buzzard, and hen harriers hunting over the moorland. Northern lights. An otter catching breakfast in the bay.  We managed a walk each day, pottered along beaches, watched wildlife, and sat and crafted while watching the weather go past and the tide ebb and flow in the bay. It was mostly a tranquil week.
I did do one nerve-wracking thing. Sketching and drawing. This is not my forte. As my secondary school teacher told me ' you will never be an artist'. I have never spent time on art. On this holiday I decided to have a go. The first obstacle to overcome was – and is – fear. I am not sure what I am afraid of – perhaps it is the memory of that art teacher. But there is a little trepidation in the act of putting pencil to paper. The voice in the back of my mind telling me this is something I can't do. That I am wasting my time and I should stick to something I know I can do. My fear of not being good at something, of being ridiculed, was outweighing the knowledge that this was something I used to enjoy. I took my courage in my hands, and each day at the cottage, I sketched or drew something. I am still not the world's greatest artist, and never will be. My perspective is a bit skew-wiff, and my proportions are off. The pictures are vaguely identifiable- if you know the place I have drawn. But I enjoyed it. I have conquered some of the fear.
The echoes of the past can hold us back from exploring what we are able to do. We can restrict ourselves and our lives, following the same paths and the same ways. We are sometimes the ones limiting ourselves. 'oh, I could never do that'; 'That's not me'. It is far easier to stick to the tried and trusted than to risk stretching out and falling flat. That way, there is less chance to make a fool of yourself. This is something we do not just as individuals, but as a church and as a society. We tend to stick to the old and familiar. There is some comfort in that. But there is fear of trying new things, of being different, of going against the flow. We conform and restrict ourselves to the expectations of those around us, and in doing so, the sparks that bring life get quenched.
This is not God's plan for our lives. God made us to live life, and to live it in all its fullness. Through Christ, through faith and trust, and love, and hope, God makes our lives anew. He can do more with them than we could ever hope or expect. As we approach the new season of Lent, let us strive to live the life God calls us to – released from the past, looking to the future – life in all its fullness.
With every blessing,
Vittoria 
Rector's Letter, December 2021 and January 2022
Dear Friends,                              
I wonder if you have a special Christmas film, or book, or piece of music? Depending what mood I am in, I will either watch Love Actually or the Muppet Christmas Carol. For Christmas reading, for some reason the Canterville Ghost is my go to. I have several CD's of Christmas music and carols. I am most definitely a Christmas person. Not in terms of piles of presents or huge family gatherings. But I like the scents, the sounds, the feel of Christmas. Even better than Christmas for me is Advent. I like the slow gradual build-up, the feeling of expectation, the rituals and traditions.
My mother is likewise a fan of this season. My father, on the other hand, dislikes all the fuss, doesn't like all the people, and can't stand proper Christmas trees. For the sake of the children, when we were growing up, he tolerated all the trappings, and for love of my Mother (and fruit-cake) he copes with Christmas cake making and Stir-up Sunday. But it's not really his thing, and if the decorations go up too early or stay up too late, he tends to get a bit grumpy.
Part of the problem for my father is that he struggles with the dark and the cold, as he suffers from seasonal affective disorder. When you are struggling mentally, for whatever reason, others being bright and cheery can make you even more gloomy. Our moods can be affected not only by what happens inside our homes, but what happens outside. Like my father, for some, this season of  year is the worst of times. It is cold, damp, and dark, and it can be extremely lonely. It is a time full of bittersweet memories. It is easy to hibernate away from the worst of the winter, burying ourselves inside under the blankets. 
For others, the festivities of Advent and Christmas, the lights, the presents, can pull us up into a better place. This season is a season of celebration and joy. Crisp cold air brings rosy cheeks, and the darkness is a reason to light candles and fires, spreading the light further. The approach to winter brings back memories of families and friends, of laughter. Where are you at this time of year? Do you like it or loathe it?
In our churches, December marks the start of Advent, a time of preparation for the feast of Christmas. It's a time when we look to the past, to the lessons that can be learnt. When we look at the present, examining where we are in our lives, and if we are going in the right direction. When we look to the promise of the future. For people of faith, that promise is found contained in the story of Jesus, and the fulfilment of that story at Christmas. This is a story that tells of the help, hospitality and generosity of neighbours and strangers reaching out in the darkest of times. Wherever you are in your journey of faith, or even if you are unsure about faith, this is a message which still has value – that we do not stand alone in this world, no matter how alone we might feel. That we only have to reach out a hand, to speak out, and help is there. That no matter how dark the time might feel, there is still promise for the future. 
It is no coincidence that the early Christians chose to celebrate the birth of Jesus at the time of the winter solstice. For them, the birth of Jesus was the turning point, when light turned to darkness, much as the winter solstice marks the point where the darkest day and longest night are over, and looks towards the lengthening of days. 
There is light in the darkness, if we look for it. There is light in the darkness, if we choose to share it. There is light in the darkness, if we stretch out a hand to find it. This winter time, search for the light in those around you. Seek the good in the world. Cast out the darkness of the world by acts of love, joy, peace, mercy and justice.
The peace of this tide to you.
With every blessing,
Vittoria
Rector's Letter, October and November 2021
Dear Friends
In Bridge Square in Ballater, and in the grounds of Aboyne Castle stand two trees which symbolise best to me this times of year. The one in Ballater is many years old, and stands spreading out it's branches over the grass where in the spring the crocuses grow. The one in Aboyne is a younger version, still finding its feet in the pastureland. These are horse chestnut trees or conker trees – not too common in this area. We are reaching conker season. This is a period when nature seems to be slowing down for its winter rest, blanketing the ground with thick layers of leaves, rather like changing from the summer to the winter duvet. There are various touchstones in my year which I delight in. Conkers are one of those points of contact with nature and the cycles of the world. If a year passes without me acknowledging them, it means I have become too busy or distracted. It reminds that the world is bigger than just me, and to take a step backwards and refocus.
If you explore the pockets of my jacket you will often find conkers rolling around, glistening chestnut red, polished to a smooth finish. I have a bowl of nuts and cones at home which sits on the side, waiting for the entry from the new autumn. Conkers to you may bring back memories of your school-days, having conker competitions in the yard. To me, the conkers bring back memories of other trees, from an enormous spreading tree at Bodelwyddan in North Wales, where I used to take a picnic on days off, and sit and watch the view, to the conker tree which balances on the cliff edge down at Lee Abbey. There is a bench there under the branches, and across the valley you can see the sea, and hear it crashing on the rocks.
We all have touchstones, parts of the year upon which our memories lie, which serve to mark the passing of time. For some that may be birthdays or anniversaries. For others it may be events such as Midsummers Eve. Others may look for the first crocus or daffodil, or for the first opening of the buds on the trees. All too often we rush madly through life, possibly pausing briefly to acknowledge an event, but then heading onwards to the next thing. Yet the world is ours to glory in and revel in. It will go no faster if we are impatient. So this is my encouragement to you. Go out. Enjoy the autumn, even the damp days. Savour cups of tea with friends. Make your own touch points in the year, which keep you grounded amidst the uncertainty of life.
One of my favourite passages is from Ecclesiastes 3 – for everything there is a season. Remember that the seasons of life are myriad, but that in the end, the One who is in control is God, if we choose to hand that control to him. Without God all else is, as the writer says, only vanity.
Every blessing,
Vittoria
Rector's Letter, August and September 2021
Dear Friends,
To mask or not to mask, that is the question – or it seems to be in the press as I write this. Some of my friends are determined to continue wearing masks, no matter what – others are delighting in the prospect of throwing off what they seem as a redundancy. I will continue to wear mine indoors and in crowded places, out of consideration for others, and for peace of mind for myself. Peace of mind is something that, at present, I am finding difficult to grasp. My mind feels a little like walking through sludge, or rather butterfly like, flitting from one thing to another. I am finding it difficult to concentrate for any length of time on one thing. I'm told I am not alone. The effects of successive lock-downs, dealing with the stress of Covid-19 and trying to keep life going as normally as possible in such a context is draining. I had assumed as lock-downs started to draw to a close I would find it easier. But instead I am increasingly uneasy. Opening up seems a little dangerous somehow, and retreating back to the time of shielding – restrictive though it was – seems safer. The 'are we or aren't we' situation regarding opening up and Covid-19 levels is a little prickly to live with. So what can we do about it?
There is a prayer I use for times when I am feeling restless or disturbed. I think it was written by David Adam. 'Calm me, Lord, as you calm the storm. Still me, Lord, keep me from harm. Let up the tumult within me cease. Enfold me, Lord, in your peace.'. It is not some magical mantra, but it reminds me that no matter how uneasy or bumpy the ride, God is with me. That he is in control, he has the power to calm storms, both meteorological and metaphorical. I remind myself, however, that he does not step in where he is not invited. When things are unsteady, unpredictable or frightening, I must remember to call upon God, to spend tome with him, to invite him to be in the situation with me. 
Too often, when I am uneasy, I try to work things out by myself. I thrash around in my mind, trying to find a solution. I have learnt to try to calm myself, still myself, call out to God, be in the presence of God. One of my ways of doing that is to pick up my knitting needles, or my embroidery. I find in the repetitive motion of knitting or stitching my mind and body are stilled, and become more open to hearing the whispers of God. For some, this stilling will happen when walking, or gardening, or playing a musical instrument. Some may use the rosary, or meditate on an image. It is almost as though in some kind of bodily activity, our minds are free to slowly unwind and open up. 
I do not know what you are experiencing in this half-time, balanced between lock-downs and normality. You may be longing for all measures to be disposed of. You may be afraid of going back to normal. You may be hesitant. You may be joyful. All of these emotions are valid. But wherever you find yourself, mentally and physically, I encourage you to invite God into that place, to walk with you, to encourage you, to be alongside you.
With every blessing,
Vittoria