History of St. Thomas' Church
History of St. Thomas' Church
A Brief History Guide to St. Thomas' Church, Aboyne, by Jane Kruuk
A Brief History Guide to St. Thomas' Church, Aboyne, by Jane Kruuk
A comprehensive guide to St. Thomas' Church has been written by Jane Kruuk – 'St. Thomas's Church, Aboyne 1909 – 2009, A Brief History and Guide'.  The publication discusses the history of the building of St. Thomas' Church, and includes photographs and detailed information on its architecture and decoration.   Please contact us for further information or to purchase a copy.
Further information about the architectural features of the church can also be found on the Scottish Church Heritage Research website.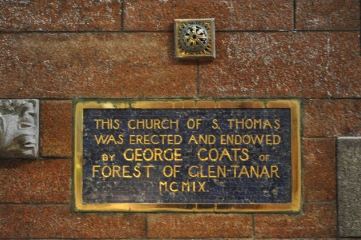 Here is our East Window which is magnificent. With the summer sun shining through, it shows up all the detail and colours.
For such a small church it is an astonishing feature.